Shipping Info
Delivery costs for Peninsular Malaysia, Sabah and also Sarawak will be charged according to the price stipulated by the logistics provider Lalamove & others. We aim to deliver your order to you at the delivery address listed and by the delivery time indicated by us at the time of your order checkout. These details will also be listed in the order confirmation. Should any unforeseen circumstances affect your delivery, we will notify you of this to the extent permitted by law, however, we shall not be liable for any losses, liabilities, costs, damages, charges or expenses arising out of late delivery.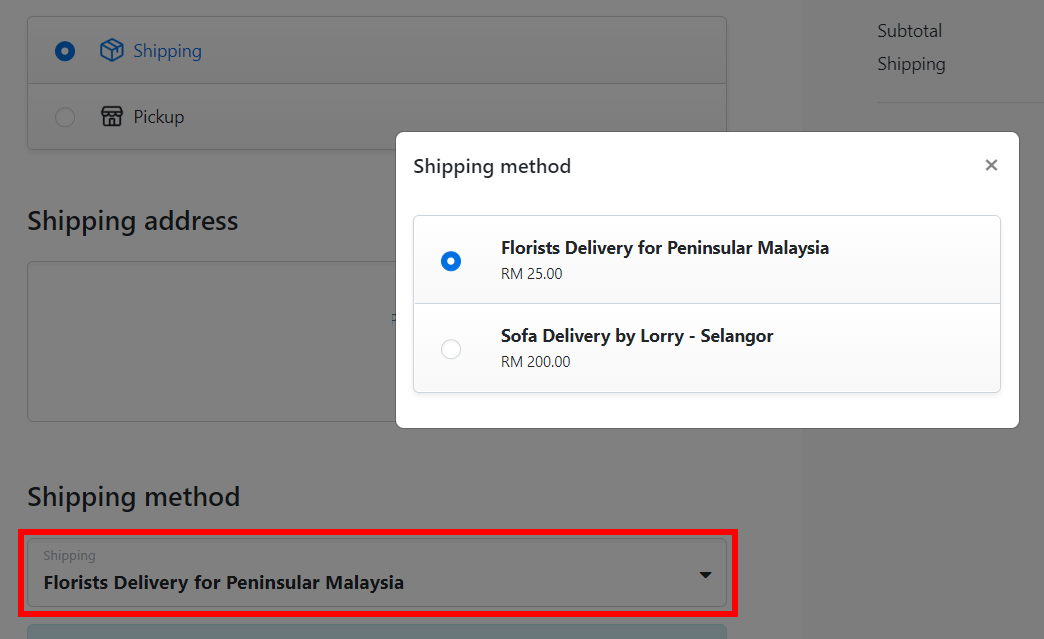 For florists order only, you can choose our delivery method:
a) Florists Delivery for Peninsular Malaysia, or
b) Florists Delivery for Sabah & Sarawak
For sofa order, you can choose our sofa delivery by lorry
| | |
| --- | --- |
| State | Lorry Charges |
| Kuala Lumpur | RM 150 |
| Selangor | RM 200 |
| Seremban & Negeri Sembilan | RM 250 |
| Melaka & Johor | RM 350 |
| Pahang, Terengganu & Kelantan | RM 350 |
| Perak, Kedah & Penang | RM 350 |
| Perlis | RM 450 |
For pick up order only, you can choose our pick up method:
Pick up address: B-G-3 Boulevard Business Park, Jalan Kuching, 51200 Kuala Lumpur, Malaysia
Customers can only pick up the order after the cut off day(s):
Florists: 3-5 days
Sofa: 2-3 weeks
In case of any faults, issues, defects or damages, please feel free to reach out to our customer care representative. Please provide information about such issues during the call, including your order number, product details, etc, if needed.